My (1/2) Sister:

Margaret Ella Pontremoli LaRoe

born 05-16-1934 to

Nita Goode

and Anthony Wesley (Buster) Phontremoli.
April, 1957 Margaret married Hollis G. LaRoe of Kafman, Texas.
They where married in Overton At the chruch.
Bill & I (Diana)Griffin got to be in the wedding too. I remember that was a big day for me.
Below are photos of Margaret as she grew up.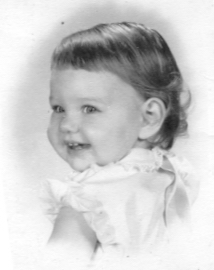 Margaret & Hollis had one Child on October 14, 1958.
Margaret Camille
LaRoe

Below are photos of Margaret beside her Father's Grave and Family Headstones
Because this is last of the Pontremoli's I will be working on I will list my sisters' Fathers' family here.
On July 14, 1933 Juanita Goode and Anthony Wesley (Buster) Pontremoli there married in Strawn, Palo Pinto Co., Texas.
Buster was Hit by a train in Odessa in May 12, 1935. He was born Jul. 12, 1910.
His Father was Earnest Pontremoli Born Apr. 1, 1878 in Italy and Death 1948.
His mother was Lula Roberts born in MO. in 1885 and died in 1964
Together Earnest & Lula had 11 children.
Infant Pontremoli B: 4 JUN 1905
Louise Pontremoli B. 12 JUN 1906
Gladyce Irene Pontremoli B 3 SEP 1908 in Ft. Worth,Texas
Buster Pontremoli B 12 JUL 1910
Carl Pontremoli B. 24 May 1912
Leona Pontremoli B. 18 May 1914
Joe Pontremoli B. 14 FEB 1916
Ernestine Pontremoli B 10 JUN 1918 - 1945
Infant Pontremoli B 24 JUN 1920
Billy Pontremoli B 24 Nov 1922
Jimmy Ray Pontremoli B 17 DEC 1926



COPYRIGHT AND DISCLAIMER
copyright © 2002-2010 Photography by Diana

All rights reserved. No part of this publication shall be reproduced, stored in a retrieval system, or transmitted by any means, electronic, mechanical, photocopying, recording or otherwise, without written permission from Diana Griffin of Photography by Diana